Hey y'all! Hope you're having a fantabulous Tuesday. Since I'm not feeling so hot, I've been drinking a TON of tea. So this is kind of my life right now: hitting the books, drinking tea, and being sick. So, how perfect is this link-up for today? I'm kind of obsessed with Jacky and her British-themed blog, so check it out! :)
One of the best parts about blogging is meeting new friends from across the world. I've done this by participating in many link-ups and blog networks over the past year. After much deliberation, I've decided it's time to start my own. Since my blog has a major British theme going on, I thought a weekly tea party would be the perfect way to bring bloggers together. Of course you don't actually have to drink tea while you link up... but it is preferred! The rules are pretty simple - you can link up ANY type of post you'd like (fashion, travel, recipes, etc). I just ask that you link back and follow me and whoever might be co-hosting.
Speaking of co-hosts - if you're interested in co-hosting a future Tea Party Tuesday, please email me here.
The (easy-peasy) Rules:
1. Link up ANY post and l
ink back here.
2. Follow Keep Calm and Blog On and your co-host(s).
3. Visit at least three other bloggers below and say hello.
Sip your tea and nibble your crumpets - let's hop to it...
#teapartytuesday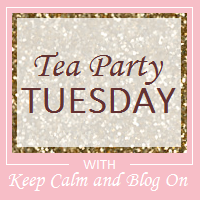 Your Host:
Your Co-Hosts: